It is recommended that you go through the following 10 steps in studying about the nuclear threat to New Mexico.
This mapper is on someone else's web site so that you will need to save this address in order to return here if your back button doesn't work. However, you want to be sure to go the mapper site and calculate the damage to probable targets (cities) around you.
c. Stock supplies.

7. My Survival Web Page contains links to lots of other information such as free books to download about nuclear survival, links to plans for building shelters, and even free consultation about building a shelter.

8. If you are SUPER concerned about nuclear survival you might consider joining the

Ark Two Community.

9. If you like, you can look at our Honor List for groups that we know of that have an existing rural location. Most of these, however, have no direct interest or preparation in regards to nuclear survival. At the bottom of this page is a Directory of our contacts in New Mexico. Many of the local entries for states were listed because of their Y2K concerns and may not have any nuclear concerns.

10. And finally if you would like to be on the mailing list of the author of this site - send a blank email to:


Y2KFind-subscribe@listbot.com

This link will take you back to the Index of all the States

Link to the Directory for New Mexico
---
The following is the most commonly used prevailing wind predicted fallout pattern, but remember, fallout can go anywhere or everywhere (and probably will).

Continental US Fallout Pattern for Prevailing Winds (FEMA-196/September 1990)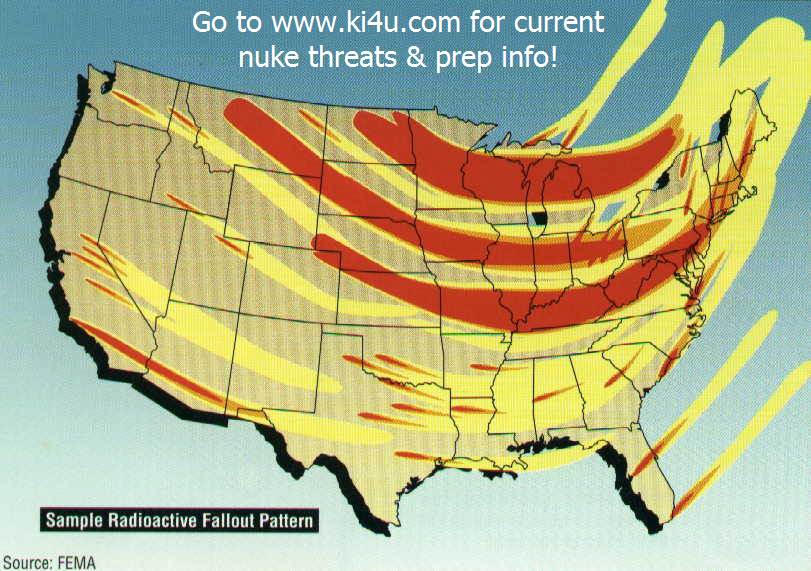 This link will take you back to the Information for New Mexico
This link will take you back to the Index of all the States
---
The Directory for New Mexico
---
New Mexico STATE Index

New Mexico (Bingham) 5 Acre RV park
New Mexico New Mexico State TEAM Leader
New Mexico (Silver City) Seeking kindred spirits for

nonsecterian spiritually oriented community.

New Mexico (Remote)
NEW MEXICO (Other)

Click here to return to the
New Mexico Directory List
INDEX of STATES
Your Locality Registry
Be SURE to REGISTER before leaving!
---
47. New Mexico (Bingham)

Building a communications company with website, mailorder bookstore and a monthly magazine published for four years. Looking to develop this 5 acres into an RV park (Trinity Site RV) that could support a few families. We need all types, builders, salesmen, researchers and writers. We are believers in God, Country, the Constitution and the Bill of Rights.

Website:


Free American Website

Clayton Douglas
Contact us at:
The Free American,
2943 US Highway 380
Bingham, NM 87832
Phone: 505-423-3250
Fax 505-423-3258


freeamerican@etsc.net

Click here to return to the
New Mexico Directory List
INDEX of STATES
Your Locality Registry
Be SURE to REGISTER before leaving!
---
Click here to return to the
New Mexico Directory List
INDEX of STATES
Your Locality Registry
Be SURE to REGISTER before leaving!
---
48. New Mexico (Silver City)
Community forming
Seeking kindred spirits to found a small non-sectarian, spiritually oriented community. My background is in alternative health, writing, music. Published books include Journey Into Consciousness, the chakras, tantra and Jungian Psychology, and The Way of Karma. I was guided to this beautiful area which has a mild climate.
We are 3 mature individuals presently negotiating on a 20 acre parcel in the foothills of the Mogollon Range, 70 miles NNW of Silver City New Mexico. The land borders National Forest, has large leveled garden and community areas, as well as secluded places for individual homes. It comes with two wells, and a creek is running about 9 months of the year through the land (600' creek frontage).The asking price for the land is $110,000. We need about 20 to 30 thousand dollars more to purchase the land. We invision a land trust with each community member owning a share, a share being worth around $20,000.
We have backgrounds in alternative health, psychic work, and spiritual healing and the land would lend itself to offering workshops and retreats. We embrace these possilibities while concentrating on developing a community to weather y2k and geological changes looming on the horizon. Our vision of community is learning to live in harmony with the land and with one another. Though power and phone are to the propertyline now, we plan to be off the grid and have a communal kitchen and bath area with small individual homesites. We envision no more than ten people who can share a transpersonal focus. If you feel drawn to this area and would like to join us in forming a community let us know.
The time is now.
Our phone-number is: 505-539-2545
Love Marsha, André, and Sevan.
Sevan Breaux

cevaun@hotmail.com
Click here to return to the
New Mexico Directory List
INDEX of STATES
Your Locality Registry
Be SURE to REGISTER before leaving!
---
188. New Mexico
New Mexico State TEAM Leader
TEAM stands for Together Everyone Achieves More
The TEAM Leaders function is to tell you of other individuals in your geographic area, who are preparing and who would like to form a preparedness group or start a survival community.
Your contact for the New Mexico TEAM Leader is:
Dave Heavner

AbqMailman@aol.com
Click here to return to the
New Mexico Directory List
INDEX of STATES
Your Locality Registry
Be SURE to REGISTER before leaving!
---
310. remote New Mexico site
The Turnkey Dwelling/site portion of this is offered for individuals families from distant locations with limited resources who would have difficulty making arrangements for their own accommodations. The intent is to provide inexpensive, adequate shelter which can be constructed quickly and which will last as long as necessary. If the Y2K crisis deepens and lasts for an extended time, probably most families will wish to provide better quarters for themselves eventually. However, if the Y2K phenomenon only lasts a short while the shelter and surrounding land will provide a peaceful retreat as a remote mountain cabin for vacations, hunting, or other recreational use at a profoundly inexpensive cost to the buyers.
The stores offered in the turnkey are a compilation of the minimum needs to keep three individuals supplied with basic needs for a period of six months with adequate food, warmth, shelter, and safety, and which can be acquired within a short timeframe. Within limits these items can be modified according to your own needs and tastes, and costs reduced within the package.
If you are interested in providing your own shelter, supplies, etc., a better option for you than the turnkey offer would probably be the RV site offer, which could be used for a permanent dwelling site.
THE COMMUNITY: (These are mostly ideals for the kinds of people I'd like to see in this community. I would be ecstatic if this proved to be the case, but as time collapses and the days of material and supply shortages approach I find myself willing to compromise in the hopes that whomever joins the community will rise to the occasion and become productive community members. This compromise I've made with myself on the issue is the result of the knowledge that the entire project will fail if events outrun the movement of interest.)
Hard-working, responsible individuals and families only. Most promising site is near high mountains 1/2 mile from national wilderness area, elevation 6500 feet mean sea level, partially wooded with pinon, juniper, and cedar. Organized by professional planner skilled in woodcraft, farming, gardening, carpentry, water preservation and sanitation, hunting, animal husbandry and environmental science.
Need artisans, blacksmith, gardeners, nurses, EMTs, leather workers, teachers, engineers, sheet metal workers, welders, receiving highest priority for acceptance. Once sufficient qualified people have committed to the project, I will acquire the property. You will receive 5 acres of land, 265 sq. ft. cabin equipped with food, stores for six months, cooking and eating utensils, bedding, use of community garden area and community tools, human waste disposal facility and woodstove. 300 gallons per month water will be provided by the community. However, if you prefer, you can drill a well on your 5 acres.
If you own an assault rifle or think you need one, this probably isn't the best community for you. The intent here is to provide a sanctuary sufficiently large and remote to discourage potential interlopers from bothering anyone. Assault rifles aren't much use outside of battlefields, and the entire purpose of this community is to keep it from becoming one.
Willingness to learn and to contribute to community survival a must!
The TURNKEY OPTION includes:
Shelter: Tight, solidly built 265 square foot tall barn structure with loft. Interior is unfinished bare walls. Insulation and paneling available as an option which you can install during your occupancy if you so choose. Additional rooms can be added for a cost of approximately $5000 each. Greenhouse room also available as an option.
Warmth/heat: Package includes wood stove with two top burners, capable of heating the structure and accepting cord-length wood. Package also includes one full cord of wood. More wood optional at a rate of $150 per cord, pine, pinon, juniper.
Foodstuffs: See itemized listing below
Cookware: Cast iron skillet, dutch oven. Coleman oven for stovetop. Dinnerware for 3.
Bedding: 3 each -5 F sleeping bags.
Water: 300 gallons well water per month, measured, from windmill, catchments, etc. Optionally an additional well and catchments can be added to your tract, or in partnership with other community members.
Lighting: 2 each oil lamps and one gallon of fuel. 1 each hurricane lantern (portable)
Sanitation: Composting toilet, interior sink and solar shower will be provided.
Library: Extensive community library will be available for use by members of community. You may include your own books in the library if you choose.
Community Garden: 5 acre garden area will be available to all members. Drip irrigation will provide the water, and deer fence will protect it from larger varmints. Seed for the first year for basic gardening will be provided.
Schooling: Several teachers have expressed an interest. Teaching materials will need to be furnished by parents unless the material is available in the library.
Hunting Equipment: To maximize the availability of interchangeable ammunition within the community each household should have on hand a